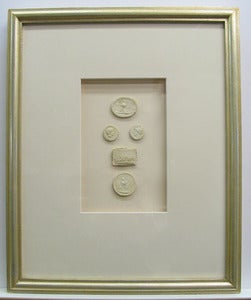 $

365.00
"Nate" Design (Nate is pictured in the large size, gilver frame):
Five reproduction intaglios in a beautiful design that we call "Nate". Intaglios are framed in a custom designed, hand rubbed frame in your choice of gold (pictured), cool silver, or warm silver frame.
These look particularly striking in groupings, and this design is also sold as part of a set (see store for details).
Our standard small size is 13" x 16" (priced at $365), and our standard large size is 18" x 22" (priced at $450).  Each frame is custom made to order, so any size is possible - please email for quote.
The intaglio pattern will be mounted as seen in this picture, but as it is a custom product, it may vary slightly from what is shown in this picture.
For more information on our custom framed intaglios, frame and mat colors, please see http://www.quatrefoildesign.com/information-about-framed-intaglios.html
For more pictures and other inspiration, please see our blog:
http://www.quatrefoildesign.blogspot.com/. 
For a great close up of our frame finishes in natural light, please see:
http://tinyurl.com/2engflp
Each item is custom made. Please allow 4-6 weeks lead time.  Trade pricing available, please inquire at quatrefoildesign@gmail.com.
For more information on our return and shipping policies, please see http://www.quatrefoildesign.com/faq.html
Availability
Small size: 13"x16" in hand leafed gold, silver, or 'gilver' (warm silver) - 100% in stock

Large size: 18"x22" in hand leafed gold, silver, or 'gilver' (warm silver) - 100% in stock